Terry Burgum
Chartered Financial Planner & Senior Manager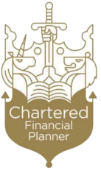 Professionally
Terry has 34 years' experience in financial services, 20 years of these in providing regulated advice at a major high street bank.
He works with clients to help them understand their needs and priorities, educating them in areas they are unaware of, taking into consideration their preferences and priorities to shape the most suitable solutions.
With Craven Street Wealth putting clients at the heart of everything they do, Terry enjoys building long-term relationships with clients where he can see the financial plan he helps build come to fruition, seeing the difference it makes to them and their families.
Terry prides himself in educating clients in helping them understand complex solutions in plain English.
Chartered Financial Planner
Associate of the Chartered Insurance Institute (ACII)
Personally
Outside of work Terry enjoys spending quality time with his family as well as sports – both playing and spectating.
He has raised money for Pilgrims Hospice by running a marathon.
Terry in the spotlight
People would describe me as:
Approachable, knowledgeable and a safe pair of hands.
Are you working towards anything in particular:
Are you working towards anything in particular? I am currently working towards achieving Fellowship status.
Contact us
Get in touch today to discover how we may be able to assist you.